Teatro Comunale Bonifazio Asioli
XIX secolo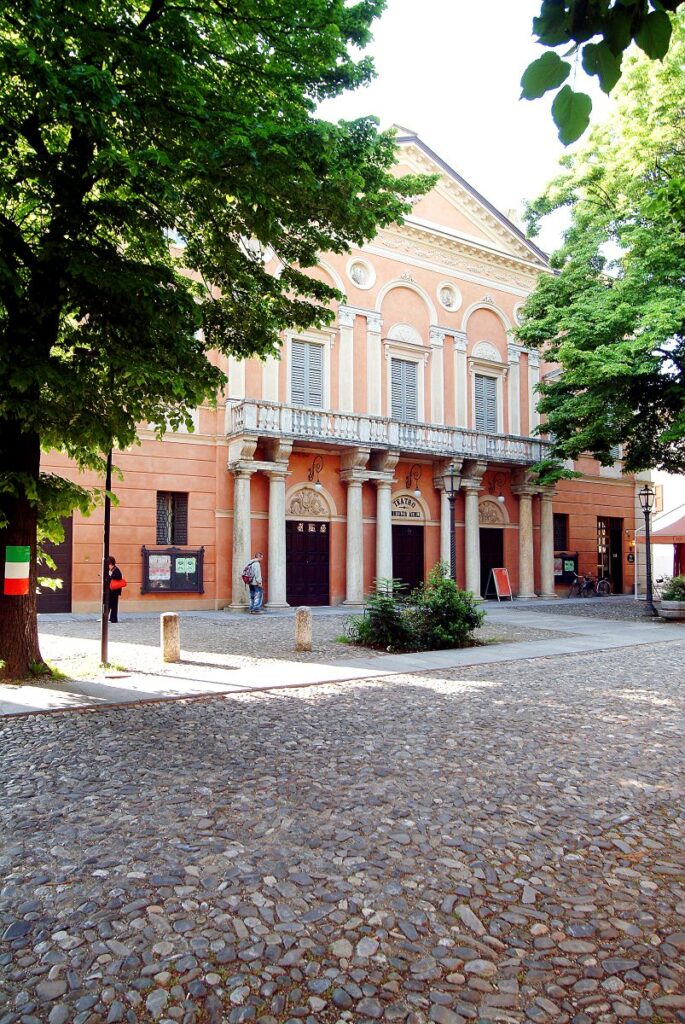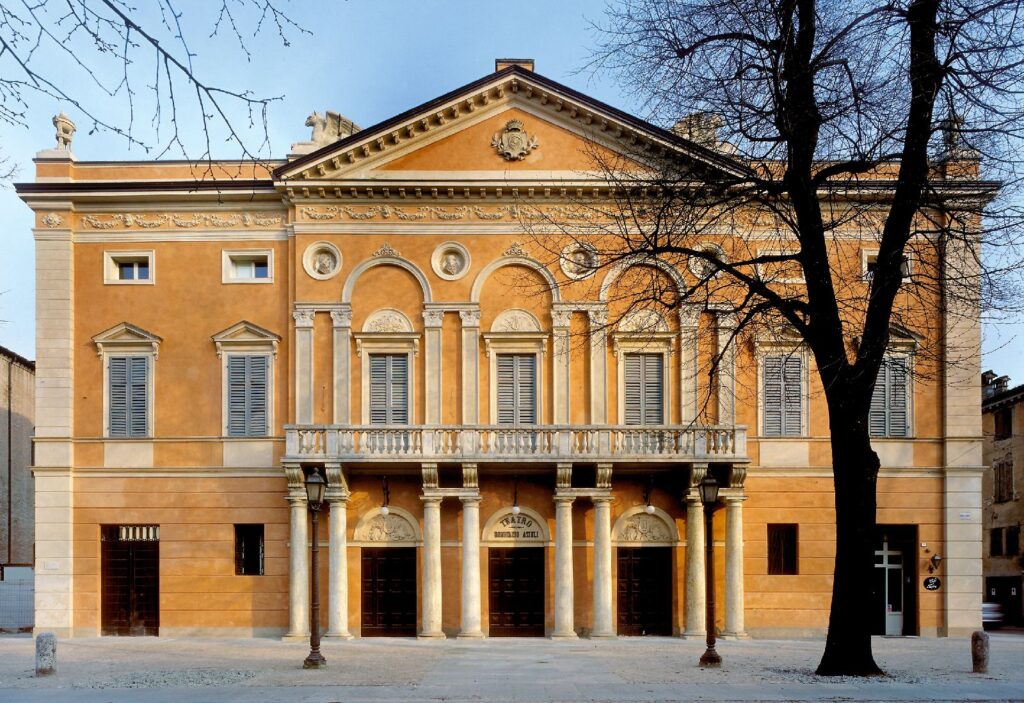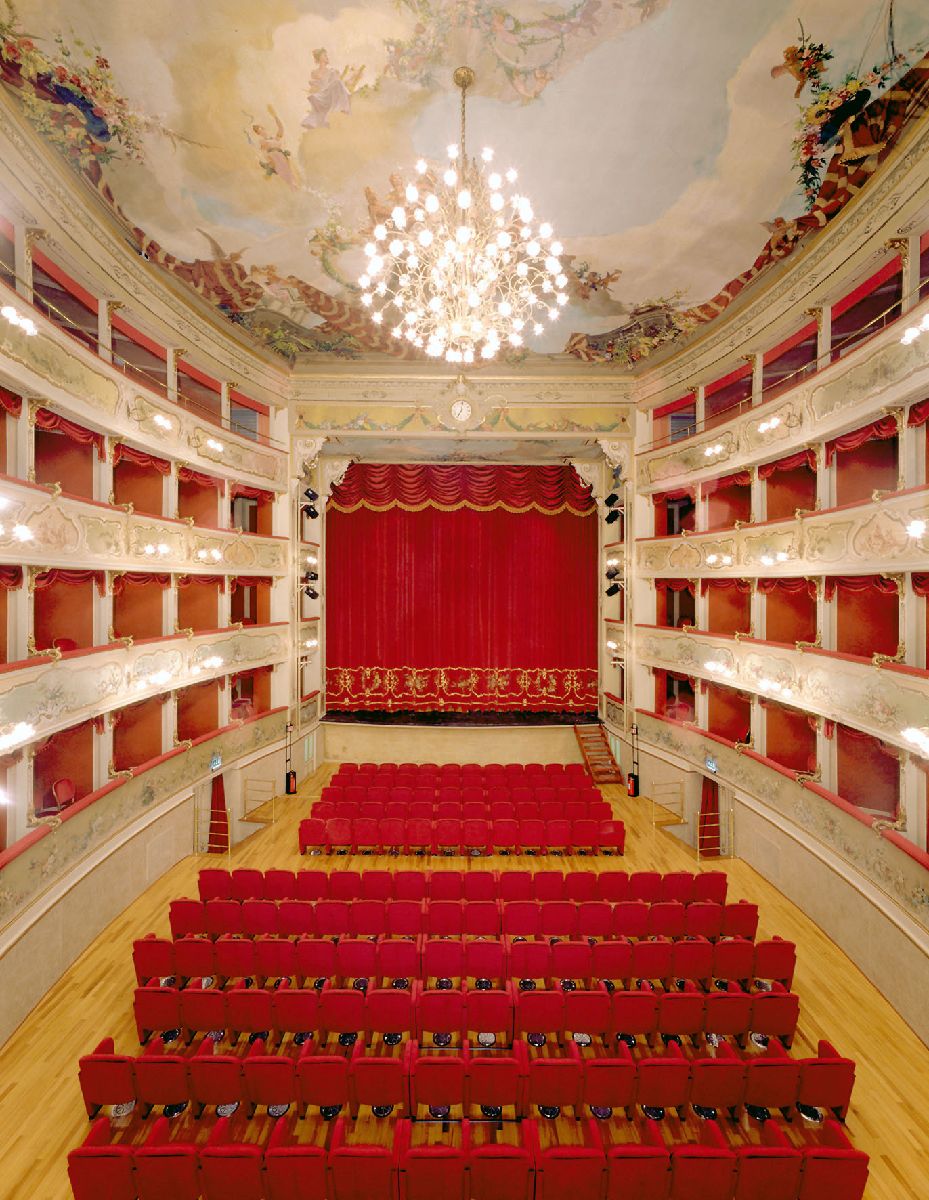 Nel 1661 il quattrocentesco palazzo di Niccolò Postumo da Correggio fu totalmente riadattato a spazio teatrale. Meno di un secolo più tardi, tra il 1750 e il 1754, importantilavori di ristrutturazione, affidati al correggese Francesco Cipriano Forti, rinnovarono tutta la struttura che venne totalmente ricostruita nel 1852 dal nipote Francesco Forti ncon la caratteristica platea "a ferro di cavallo". Solo con la costruzione della facciata nel 1873, i lavori poterono dirsi completati. Intitolato nel 1880 a Bonifazio Asioli, il teatro fu devastato nel settembre 1889 da un furioso incendio, per essere nuovamente inaugurato nel 1898. La facciata è ornata da quattro medaglioni in marmo eseguiti dallo scultore Eusebio Casalgrandi, raffiguranti Bonifazio Asioli, Claudio Merulo, Niccolò da Correggio e Samuele Jesi. Dall'atrio si accede alla platea, con tre ordini di palchi e sessanta palchetti decorati in stile Luigi XV: la volta, dipinta dal reggiano Giulio Ferrari, è ornata dalle raffigurazioni della Tragedia, Commedia, Danza e Musica. L'antisala del ridotto invece conserva
un'ampia traccia di un fregio quattrocentesco "a falso fresco" (con immagini di cavalieri che montano animali fantastici intervallati da emblemi araldici) che ornava la "Sala Grande" dell'originario palazzo di Niccolò da Correggio.
In 1661 the 15th-century palace of Niccolò Postumo da Correggio was completely restructured and turned into a theatre. Less than a century later, from 1750 to 1754, major renovations entrusted to Correggio architect Francesco Cipriano Forti revamped the entire structure, which was completely rebuilt in 1852 by his grandson Francesco Forti, with a classic horseshoe-shaped auditorium. Only after the façade had been built in 1873, was the work on the building truly completed. Dedicated to Bonifazio Asioli in 1880, the theatre was devastated by a raging fire in 1889, but reopened in 1898. The façade is decorated with four marble medallions by the sculptor Eusebio Casalgrandi, depicting Bonifazio Asioli, Claudio Merulo, Niccolò da Correggio, and Samuele Jesi. The lobby leads to the auditorium, with three tiers of boxes and seventy small
boxes decorated in Louis-XV style; the ceiling, painted by Reggio Emilia artist Giulio Ferrari, is decorated with depictions of Tragedy, Comedy, Dance, and Music. The antechamber of the foyer, instead, contains extensive traces of a 15th century "false fresco" frieze (knights riding imaginary animals, alternated with heraldic symbols) that adorned the "Sala Grande" (Great Hall) of Niccolò da Correggio's original palace.

Ultimo aggiornamento
21 Giugno 2022, 18:41